Hats of the Famous and Infamous

This statue is 26,000 years old.

Here is a close up of a Venus statue found in Austria.
Her name is Wilhemenia. This statue is estimated at being 27,000 years old.
The design on her head has been thought to be hair. Recently it was discovered that it was a head covering made of fiber.

Minnie Pearl (b. 1912) has remained
one of the most popular stars of the Grand Ole Opry.
This hat with the price tag still attached symbolizes
Minnie to all her fans. The price tag reads $1.98.

Henry Clay's straw hat, about 1840s. He
ran for the presidency 5 times and lost each time. He became a
U.S. representative and senator from Kentucky, speaker of the
house, and secretary of state. Henry Clay was known as
"the Great Compromiser," he helped formulate legislation,
including the Compromise of 1850, which was supposedly to
help moderate sectional conflicts and prevent civil war.
In 1926 the Smithsonian added Clay's straw hat to it's collection.

This top hat is alleged to be the one worn by Abraham Lincoln to Ford's Theater on April 15, 1865 on the night of his assassination. For many years the hat was kept in storage because museum officials believed it was in poor taste to show objects connected with the assassination of a president. The President's first stovepipe hat was supposedly made my George Hall of Springfield, Illinois.

This hat was worn by Tom Thumb's about 1865.

Mr. and Mrs. Tom Thumb, circa., 1863 taken by George K. Warren After their 1863 wedding, this celebrity midget couple was managed by P. T. Barnum.

Indiana Jones's hat and jacket, 1980s The character of Indiana Jones, an archaeologist-turned-action hero, was first introduced in the 1981 film Raiders of the Lost Ark, produced by George Lucas and directed by Steven Spielberg, was played by actor Harrison Ford.
This military hat belonged to Anna Mae McCabe Hays, the first woman general in the U.S. Army, June 11, 1970.
She was the Chief of the Army Nurse Corps, entered military service in 1942. She was World War II and the Korean and Vietnam Wars.


This hat was worn by the singing cowboy Roy Rogers.
Charlie Chaplin in "The Gold Rush"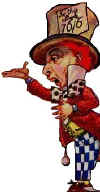 Of Course this is the famous Mad Hatter
from Lewis Carroll's "Alice In Wonderland".
The great debate is whether or not the tag in his hat band is the size... big head!!
Or the price, which would be ten shillings and sixpence or half a guinea.
That would be a very expensive hat.
It is possible that Lewis Carroll recognized that
mercuric nitrate fumes caused a dementing disease
which came to be diagnosed as "Mat Hatter's Disease".


President Calvin Coolidge with his famous tip of the hat.

Contrary to popular belief, President Kennedy DID wear his silk top hat for his inauguration. Many hat makers attributed the decline in hat sales, during Kennedy's presidency to the erroneous fact that JFK did not wear any hat at all.

This is a photo of John B. Stetson, the son of a Philadelphia hat maker. J.B.Stetson invented a Stetson hat when he made a bet with some partners while on a trip out west to find a cure for tuberculosis
. He told them he could make a fabric hat without weaving.
He proceeded to use fiber, wet it and eventually form his Stetson
which he wore during the remainder of the trip.

This may have been what his original hat looked like.
This is a Boss's Stetson
John Wayne's
Favorite Hat
John Wayne
Cavalry Hat
| | |
| --- | --- |
| | Audrey Hepburn |
| | Joan Crawford |
| | Fred Astaire |
| | James Dean |
| | Gary Cooper |
| | Groucho Marx |
| | Minnie Pearl |
| | |
| --- | --- |
| | Carmen Miranda |
A hat that once belonged to Mussolini was
recently auctioned as sold for
two thousand, three hundred British pounds.
Who could
forget
the infamous
GUMBY!
Every Child's favorite
THE CAT
IN THE HAT
SNOOPY
IN A
TOP HAT