Patent
Pending

All
Hat Shapers $28.00
(unless otherwise marked)
Place An
ORDER

Shoe Shapers All Size
A-H
$50.00/pr



AMISH DRESS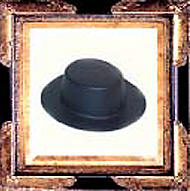 This hat style has a crown that is 3 1/2 inches high and a flat top to the crown. Although this hat is called Amish, it is also very useful for many styles of men's and women's hats through the ages.
With vision, and the addition of spectacular brims, this crown is so very versatile for any hat maker. The smaller size Amish hat is basically the same crown used in many children's styles during the late 1800's such as a the one that little Lord Fauntleroy wore or the famous Blue Boy.
Boaters, Pork Pies, Quaker Style, Tricorne or Bicorne, Napoleans, and Cavaliers are just some of the examples of what might be created on the Amish Style Hat Shaper.
Amish can be really cool!


Or really Cute!
(knitted/felted with Fun Fur from Judi Meissner)


Morgan Shea Sent us these photos of hats he created on Amish Style Hat Shapers.

CIRCUMF

.

HEIGHT

XX SMALL

20
3 1/8

X SMALL

21
3 1/

4

SMALL

2

1

1/2
3 1/

4

MEDIUM

22 1/2
3 1/2

LARGE

23 3/4
3 1/2

X LARGE

24 1/2
3 1/2
The circumference is measured on the crown at the brim.