PADRE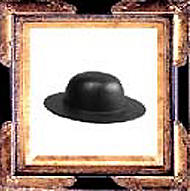 Our Padre is based on the movie version of the priest of the small Spanish mission from old southwestern America and Mexico.

One can see that this style of crown is as versatile as any of the Hat Shapers crowns. Men. Women, and children's hats can be created using this crown

Different Brims and Embellishment will lend themselves to a great variety of hats and bonnets for you to create.
PADRE

CIRCUMF

.

HEIGHT

X SMALL

NA

NA

SMALL

21

3 1/4

MEDIUM

22 1/4

3 1/2

LARGE

22 3/4
3 3/4

X LARGE

NA

NA