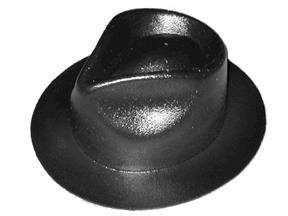 From Fred Astaire to Bing Cosby, Frank Sinatra, this hat got it's start when it was seen is a play by Sardou called "Fedora".
Worn by business men, singers, actors, gangsters, presidents, hunters, and today... teenagers.
To the left is a beautiful Panama made by Mike Butler a millinery student in Los Angels, CA. It is made in off-white straw and the brim is wired and sewn, with a beautiful grosgrain ribbon. This amazing hat was made on our Large Fedora Hat Shaper.